Benefits of  Herbal Joint Pain Oil 
Reduce swelling, soreness & sciatica pain.

For joint pain and muscle pain.

Provides relief from ankle pain.

Relieves frozen shoulder &  inflammation.

Increase mobility. 
Regular price
MRP- Rs. 1,349.00
Regular price
MRP- Rs. 1,499.00
Sale price
Rs. 1,349.00
Unit price
per
-10% OFF
View full details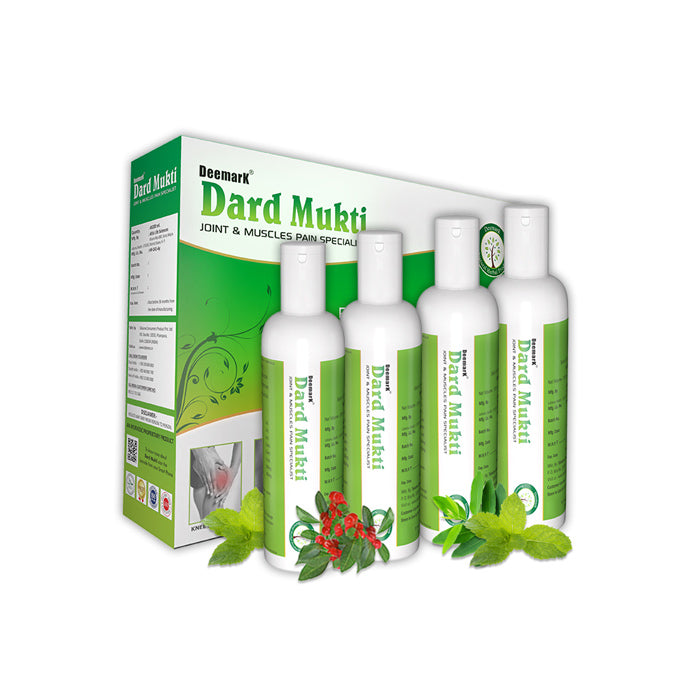 Product Features
Rehabilitates stiff Joints

Immediate & Long-Lasting Relief

Gentle Care for Joint Pain

Beneficial in Building healthy joints
Key Ingredients
Ashwagandha 

Satpodina

Dalchini 

Nilgiri
Other Ingredients- Mahanarayan Tail, Mahamash (Niramish) Tail, Gandhpura (Wintergreen) Tail, Satpodina (Menthol), Kapoor (Camphor)
Description
Dard Mukti Oil is an herbal pain relief oil designed for common discomforts such as arthritis, sprains, joint pain, and muscle pain. This unique pain relief oil is based on the traditional wisdom of Ayurveda, produced using the Kshir Pak Vidhi. A method used in Ayurveda where herbs are cooked with milk for a while. This gives the herbs the goodness of milk and also keeps them from drying out. It also gives it a moisturizing touch.

Read More
Product Details
Net Quantity - 200ml Dard Mukti Oil
Usage Instructions
Take enough quantity of Dard Mukti Oil.
Apply the oil to the affected area.
Gently massage in circular motion until fully absorbed 
Do this regularly for best results.
You should start feeling relief within a week or less.
FAQ
Is Deemark Dard Mukti Oil suitable for everyone?

It is suitable for most people. However, it is always advisable to consult with a healthcare provider before using any new product, especially if you have any underlying health conditions or are taking any medications.
Is the relief provided by this oil temporary or permanent?

Regular use of the oil for a minimum of 10 days can provide long-lasting relief from joint pain. However, the duration of relief may vary depending on various factors like age, severity of the condition, diet, and lifestyle.
How does Deemark Dard Mukti Oil work to relieve pain and stiffness?

The ingredients in Deemark Dard Mukti Oil work together to help reduce inflammation and improve blood circulation in the affected area, which can help to relieve pain and stiffness.
Can Deemark Dard Mukti Oil be used for all types of pain, or is it specific to certain areas of the body?

Deemark Dard Mukti Oil is marketed for its potential benefits in relieving pain and stiffness in several parts of the body, including the knees, shoulders, back, calves, arthritis, and cervical-related pain. However, its effectiveness may vary depending on the individual and the type of pain being experienced.
Which oil is good for knee pain?

Deemark Dard Mukti Oil uses natural ingredients such as Tejpatta and Seasame Oil for pain relief. This Oil is widely used on inflamed muscles, sprains, strains and other various types of muscle and joint injuries.
Does Deemark Dard Mukti Oil cause skin irritations?

No, Deemark Dard Mukti Oil is formulated to be gentle on the skin and does not cause irritation. But if you have any skin related problems please consult a doctor beforehand.
Are there any additional tips or recommendations for using Deemark Dard Mukti Oil effectively?

To use Deemark Dard Mukti Oil effectively, it is recommended to apply it on clean and dry skin, and massage it gently into the affected area. It is also important to avoid getting it in the eyes or on open wounds, and to wash hands thoroughly after use. Additionally, it is recommended to maintain a healthy lifestyle and to seek medical advice if the pain persists or worsens.
What should I do for the best results?

For the best results, you can use Deemark Dard Mukti Oil and take Deemark Ortho Tablets along with milk daily to restore strenght from within and in case of severe or long-term joint pain you can apply Deemark Dard Mukti Oil daily or regularly on affected body parts.
What is the permanent solution for joint pain?

There's no treatment currently available that will completely eliminate the joint pain associated with arthritis or keep it from returning. However, there are ways to manage the pain: It may help to use topical pain relievers or take nonsteroidal anti-inflammatory drugs to reduce pain, swelling, and inflammation.
It Works
My mom has had arthritis for more than 3years. The oil hasn't gotten her rid of the ailment of course, but has been a real help in managing pain and her mobility.
Works miraculously at the joints
It's for join pains, it works and gives a prolonged relief but expect it to work after applying continuously for a week or two. It isn't for an instant solution.
A realiable product
Got this for my father, he liked it and has been using everyday over a year now. Useful product
Good for old-age peoples ..
Value for money , I've been doing massage on my father and my father got some relief from the day 1 , will update my review once I use full bottle . Still I say MUST BUY PRODUCT . !!!!