Ayurvedic Tulsi Drops Benefits 
Helps to boost Immune system

Fights Cold, Cough, and Fever

Rich in Vitamin C and Zinc

Good for Skin & Hair

Antibacterial and Antifungal Properties

Fights Infections & Diseases

Helps Control Diabetes

Improves Digestion & Metabolism  

Calmness and Relief from Anxiety  
Regular price
MRP- Rs. 190.00
Regular price
MRP-
Sale price
Rs. 190.00
Unit price
per
-Liquid error (snippets/price line 86): divided by 0% OFF
View full details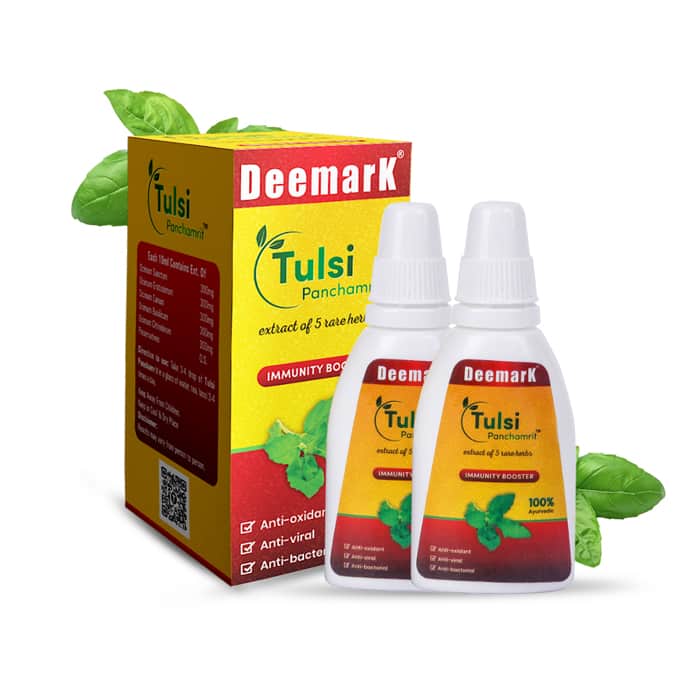 Product Features
Natural stimulation of Immunity

Helps regulate healthy digestion
Key Ingredients
Ocimum Sanctum

Ocimum Citriodorum

Ocimum Gratissimum

Ocimum basilicum

Ocimum Canum
Description
Tulsi Panchamrit Drops an immunity-boosting drink that helps fight off flu and infections, relieve allergies, and reduce daily life stress. It not only calms your mind, but also acts as an active immunity stimulator against various health problems generated by poor lifestyle choices, such as diabetes, obesity, joint pain, infections, premature aging, and fatigue.


'Tulsi' is a sacred herb, also known as Holy Basil, that has great traditional and spiritual significance in our daily lives. This makes Tulsi drops (tulsi Ark) a "Boon for our Immunity & Health".


Some proven benefits of tulsi drops include: aiding in burning more calories, improving the absorption and digestion of food, detoxifying the body, enhancing skin elasticity, and providing a surplus of energy to the body.

You deserve to have an amazing and healthy life, and you can build your active immunity and strong immune system with Deemark Tulsi Panchamrit Drops today.
Product Details
Net Quantity:
18 ml Tulsi Drops
60 ml Tulsi Drops
Usage Instructions
Take 3-4 drops of Tulsi Panchamrit, mix it in a glass of water & drink.
It can also be mixed with lukewarm water, lassi, juice, tea, or milk.
It is recommended to use it twice a day.
For better results to be consumed on an empty stomach.
FAQ
What are Tulsi drops used for?

Tulsi Panchamrit Drops is a good body immunity and strengthening tonic that helps in fighting against infections and diseases. The natural Tulsi extracts are helpful in preventing and treating common flu, allergies, and many respiratory problems. Give your family's immunity a perfect boost with the power of Tulsi.
What are the main benefits of using tulsi panchamrit ?

Help in fighting cold, cough and seasonal infections: Deemark Tulsi Panchamrit can help in fighting cold, cough and seasonal infections by boosting overall immunity and may provide relief from bodyache and headache associated with viral infections.
Does Deemark Tulsi Panchamrit Help in Fighting Cold, Cough and Seasonal Infections?

Deemark Tulsi Panchamrit helps in fighting cold, cough, and seasonal infections by boosting overall immunity. It may also provide relief from body aches and headaches that come with these viral infections.
Can Deemark Tulsi Panchamrit be Consumed by Kids and Senior Citizens?

Deemark Tulsi Panchamrit is an ayurvedic product that is safe to consume by everyone - from kids to senior citizens.
When Should Deemark Tulsi Panchamrit be Consumed?

Deemark Tulsi Panchamrit should be consumed twice a day before meals for maximum effectiveness in boosting immunity.
What is the shelf life of Deemark Tulsi Panchamrit Drops?

The shelf life of Deemark Tulsi Panchamrit Drops is typically two years from the date of manufacture. It is recommended to store the drops in a cool, dry place, away from direct sunlight.
Are Deemark Tulsi Panchamrit Drops safe to use?

Deemark Tulsi Panchamrit Drops are made with natural ingredients and are generally safe to use. However, it is recommended to consult with a healthcare professional before using any dietary supplement, especially if you have underlying health conditions or are taking medication.
What is the benefits of tulsi liquid?

Tulsi has been known as a magical herb to counter metabolic stress through normalization of blood glucose, blood pressure and lipid levels, and psychological stress through positive effects on memory and cognitive function and through its anxiolytic and anti-depressant properties.
Which disease is treated by tulsi?

Tulsi is also used to treat heart disease and fever. Tulsi is also used to treat respiratory problems. Tulsi is used to cure fever, common cold and sore throat, headaches and kidney stones. Tulsi helps in treating Asthma.
Can Tulsi cure cold and cough?

In Ayurveda, Tulsi is known as "Mother Medicine of Nature" and "The Queen of Herbs". Tulsi leaves help improve the individual's ability to fight against common cold as well as cough.

Nice Product
During these sudden weather changes to make sure my family"s immunity stays strong I daily use Tusli Drops I have used other brands also but Tulsi drops from deemark is a little better compared to others. Everyone should use them daily..............