Benefits of Ayurvedic Onion Shampoo 
Controls dandruff & scalp irritation.

Enhance Shine & Strength.

Improves hair texture & shine.  

Makes hair more manageable.

Reduces frizzy hair & Hair Fall.  

Gives hair strength and elasticity.    
Regular price
MRP- Rs. 221.00
Regular price
MRP- Rs. 245.00
Sale price
Rs. 221.00
Unit price
per
-9% OFF
View full details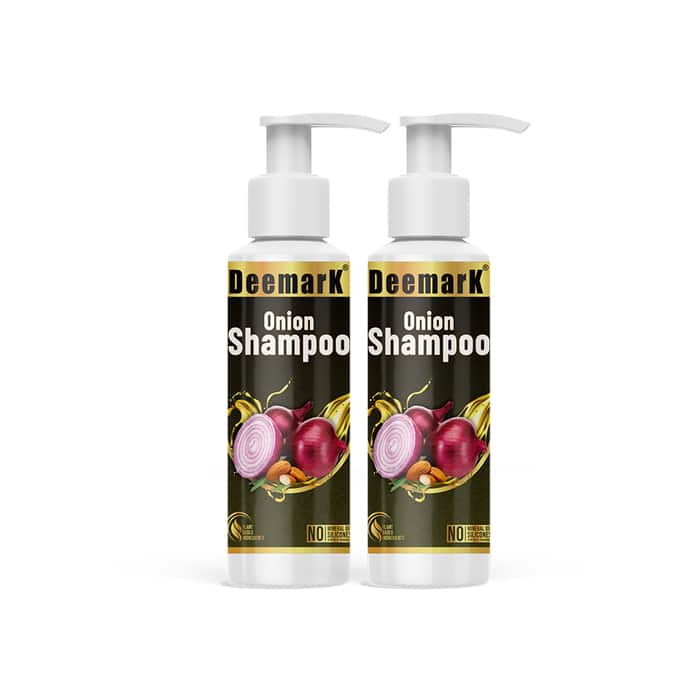 Product Features

Key Ingredients
Olive Oil

Onion Oil

Jojoba Oil

Bhringraj Oil
Shampoo Other Ingredients - Red Onion Seed Extract, Onion Oil, Bhringraj Oil, Olive Oil
Description
Deemark Onion Shampoo is a plant based shampoo that promotes hair growth, reduces hair fall, and improves scalp health. It contains red onion extracts, onion seed oil, and onion juice, which work together to strengthen hair, reduce hair fall, stimulate growth, and improve overall hair health.

Onions, a common kitchen vegetable with a strong odor and sulfuric acid that makes you cry, & have many benefits for hair growth that outweigh their flaws. However, we understand that using raw onions for hair care can be messy and smelly. 

Read More
Product Details
Net Quantity: 
Onion Shampoo- 100ml
Usage Instructions
Apply Onion Shampoo to wet hair.
Massage the shampoo into your scalp.
Rinse thoroughly with warm water.
Use daily for best results.
FAQ
Is this product made from all-natural ingredients?

Since only natural ingredients and their extracts were used in the creation of the onion shampoo so they are pure and chemical free. 
Does this product help with hair regrowth?

While using this product can contribute to healthier hair, there are many factors that contribute to hair regrowth, including a healthy diet and adequate water intake.
Which type of onion is used in the ingredients?

One of the essential components in onion shampoo is red onion, which is well-known for its numerous hair care advantages. Sulfur, which is rich in red onions, can enhance the scalp's blood flow and encourage hair development. Antioxidants found in it also aid in the defense against the harm caused by free radicals.
Does it work on infections on the scalp caused by pollution and sweat?

The shampoo is made to nourish and clean the scalp, making it helpful in the treatment of scalp infections caused on by sweat and toxins.
Is there any side effects of onion shampoo?

The natural ingredients used to make onion shampoo are usually regarded as safe for use. When taken as prescribed, they are unlikely to have any negative adverse effects of concern.
How does Deemark Onion Shampoo address these hair problems?

Deemark Onion Shampoo is made with a combination of powerful herbal extracts that nourish and strengthen hair and hair follicles, restoring them to their natural health and vibrancy. It does this without causing any harm to hair, so users can say goodbye to bad hair days for good.
Is Deemark Onion Shampoo safe for all hair types?

While Deemark Onion Shampoo is made with natural ingredients, it is always recommended to perform a patch test before using any new hair care product. This will help ensure that the product does not cause an allergic reaction or other adverse effects. If you have concerns about whether this product is suitable for your hair type, it is always a good idea to consult with a hair care professional.
Effective for Damage Hair
All kinds of hair shampoo